Arena
Talk

0
1,545pages on
this wiki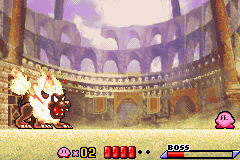 This article is about the feature in Kirby's Adventure and Kirby: Nightmare in Dream Land. For the similarly titled "The Arena", see Boss Endurance.
The Arena is a bonus room found in the lobby in various levels of Kirby's Adventure and its remake, it is a large gladiatorial-style amphitheater where Kirby can fight a pre-selected mid-boss. Kirby can get a Maxim Tomato after defeating the mid-boss and can also eat it for its ability. This idea would later be redone into a sub-game in Kirby Super Star (as well as that game's remake) and Kirby's Return to Dream Land, however bosses would also be fought.
Unlike sub-game bonus rooms, these Arenas can be entered and challenged over and over again, much like Museums.
List of Arenas