Bomb
Talk

2
1,545pages on
this wiki
Copy Ability

Kirby's Return to Dream Land artwork
Bomb
In Games
In the anime
#J51/#E49 - #J57/#E57 - #J78/#E78 - #J84/#E84 - #J85/#E85 - #J100/#E100
Type
Weaponary
Appearance
Classic: Blue, floppy cap. In Kirby's Return to Dream Land, he wears a multi-colored party hat.
Properties
Fire (

)
Other Powers
Lights fuses (

)
Ability Icon
Regular enemies
Bomb Poppy Bros. Jr., Jungle Bomb, Skud, Pedo, Rockn, Balloon Bomber, Foley, Prank, Bomb Perot
Mid-bosses
Poppy Bros. Sr. (

)
Bombar's bombs, Doc's bombs, Boxy's bombs
Bosses
Miracle Matter's bombs (bomb form), Mr. Dooter's bombs, Metal General's missiles, Moley's bombs, Mrs. Moley's bombs, Wiz's bombs, Daroach's bombs, Dark Daroach's bombs
Helper
Bomb Poppy Bros. Jr.
"

Prep a huge bomb, aim it, and--KA-BOOM! Get above your enemies and boom, boom, boom! Bowl a perfect BOOM!

"

— 

Bomb's Flavor text

 • Kirby's Return to Dream Land
Bomb is one of Kirby's copy abilities. It debuted in Kirby Super Star.
General Information
Being Kirby's most explosive ability after Crash, Bomb allows Kirby to create and utilize an endless supply of old-fashioned grenades for massive damage. Because of the rapid throwing rate, it can overwhelm enemies.
Technically, Bomb first appeared as an item in Kirby's Dream Land, where Kirby could inhale a bomb and fire it back out to damage multiple enemies, but the bomb copy ability first appeared in Kirby Super Star. In most games with ability hats, Bomb Kirby's hat is blue and floppy, similar to that of Poppy Bros. Jr. when he gets this copy ability. In Kirby's Return to Dream Land, he gets a bluish party hat with a red ribbon instead.
In Kirby's Return to Dream Land, there is a Bomb Challenge which can be accessed by collecting 50 Energy Spheres.
Move Set
Move
Controls
Description
Element
Damage

19960321

Damage

20111024

Ready Bomb
B/1 (not holding bomb)
Kirby makes a bomb. Holding it for too long can hurt Kirby and Helpers around him


None
None
None
Throw Bomb
B/1 (while holding bomb)
Kirby throws the bomb. Bombs will explode on contact.
None


Fire
16 (both bomb and explosion)
16 (bomb), 26 (explosion only)

Drop Bomb
B/1 next to foe (KRtDL) (near enemy, not holding bomb)
Kirby sets a bomb on an enemy (bosses and undefeated mid-bosses will not be affected by this). The enemy will be stunned until the bomb explodes.
None
26
26
Bomb Set
↓ + B/1
Kirby drops a bomb on the ground.
None


Fire
16
28
Straight Throw / Bomb Bowl
Dash + B/1
Kirby throws a bomb that flies straight, and the bomb is unaffected by gravity.
None


Fire
16
32

Bomb Slide
Ready Bomb, Crouch, A
Kirby does a sweep with the bomb in his hand. The bomb will be set on the ground, though it will automatically explode on contact with an enemy.
Fire
N/A
N/A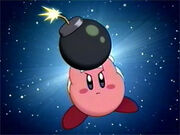 Bomb Kirby in the anime retains the same look and attacks as in the games. He can create and throw an unlimited number of bombs at will. He can also create bombs of varying sizes.
In the transformation sequence, Kirby inflates, turns red, and explodes leaving behind Bomb Kirby making a bomb.
Transformation Sequence
The sound made when Kirby creates a bomb is replaced in the 4Kids dub with a new American sound effect made from that original Japanese sound or sounding like it as made by 4Kids.
Appearances
Bomb, along with Fighter, is the third most frequently used copy ability with six appearances.
This section is about an unreleased or cancelled game
Bomb appeared as one of the abilities shown in the trailer of Kirby GCN, having some qualities from previous Kirby games, like Bomb Set for example. The ability has also shown a completely different hat unlike the previous Kirby games, which resembles an orange party hat instead of a blue pointed hat. There was also a new Bomb enemy. He is a tiny creature on a big ball, around the size of a Golem. A similar redesigned hat was introduced in Kirby's Return to Dream Land.
Flavor Texts
| Game | Flavor text |
| --- | --- |
| | Blast your enemies to bits! Take accurate aim and throw carefully. Your throw will be controlled by Y. |
| | Use B to pull out a bomb, and press B again to throw it. Move the +Control Pad to change where to throw it. |
| | HOLD! THROW!! BOOM!! |
| | Grab a bomb and hold the button to set the throw angle. Toss it and it'll go Ka-BOOM! |
| | Prep a huge bomb, aim it, and--KA-BOOM! Get above your enemies and boom, boom, boom! Bowl a perfect BOOM! |
Related Quotes
"

Ever gone bowling with Bombs? Once Kirby gets this ability, you can do it anytime! You can also use expert aim to lob them at any angle.

"

— 

Bomb's description

 • Kirby's Return to Dream Land official site
Trivia
Artwork
Gallery
Other Ability Icons