Ad blocker interference detected!
Wikia is a free-to-use site that makes money from advertising. We have a modified experience for viewers using ad blockers

Wikia is not accessible if you've made further modifications. Remove the custom ad blocker rule(s) and the page will load as expected.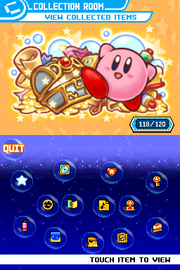 The Collection Room is a place that debuted in Kirby & The Amazing Mirror. It holds treasures like Spray Paints, World Maps, Music Notes, the Sound Player, and Vitalities - if Kirby has collected them. It appeared again in Kirby: Squeak Squad, except it would carry different treasures that Kirby collected stored in bubbles. The Sound Test is accessible from here.
Also note that the Collection Room is not a level that Kirby could actually explore, but instead appeared as a menu in the game.
Games
Kirby: Squeak Squad
There are 13 different bubbles in the Collection Room to choose from, each containing various treasures Kirby has obtained. Assuming the player has collected everything, they contain the following items:
Gallery