"
A disaster of catastrophic proportions has occurred in this peaceful land. King Dedede has stolen all of the food for himself! The nerve of that guy! Now Kirby must set out on a grand adventure with a new group of friends.

"

— 

World Select

 • Kirby Star Allies
Dream Land is a country on Planet Popstar and the main setting of the Kirby games. Dream Land is portrayed as a peaceful country with a carefree populace and abundant resources. King Dedede is the self-proclaimed ruler of Dream Land although he holds little real authority and most of Dream Land's people soundly ignore any edicts made by him.
King Dedede and his minions often cause trouble for the rest of the population and Dream Land's rich natural resources and relative lawlessness make it a common target for invasion. It's often up to Kirby to step in and save Dream Land.
Most of Kirby's adventures take place here at one point or another.
People and Culture
Dream Land features a wide array of both landscapes and inhabitants. Dream Land's demographics indicate that the Waddle Dee species make up the majority of the area's life. Besides the Waddle Dees, many other species live and thrive in Dream Land as well. The majority of the inhabitants and citizens are peaceful and carefree, however some of its inhabitants can be rather dangerous and violent.
Currency
There is no direct mention of any monetary system in use throughout Dream Land in the games, especially when the inhabitants are mostly self-sufficient and locate their own food using Sparkling Stars like they do in Kirby's Dream Land. The only time where currency is hinted at is in The Great Cave Offensive, a sub-game in Kirby Super Star and Kirby Super Star Ultra. The player's progress is measured in units of "Gold", where the maximum is 9,999,990 Gold. Finding the treasure called the "ten yen coin" (Japan version) or "dime" (American version) gives 10 Gold, so at equivalent value to 1 yen or 1 cent, Gold may not be worth very much at all in Dream Land, nor have much practical use from what can be deduced from the setting of the games.
D-bills

Dream Land's currency in the anime, Kirby: Right Back at Ya!, is the D-bill. It comes in bills and coins, and both have King Dedede's insignia on them. The D-bill is central to the plot of several episodes, as King Dedede's constant ordering of monsters has left him in debt.
Games
Sand Canyon: A vast desert seemingly located near Red Canyon.
Pumpkin Grand: A very small, flat area ideal for practicing, situated on the top of a cliff.
Corn Hall: A mountainous area which is a bit more advanced than Pumpkin Grand.
Onion Garden: A cloud-filled maze seemingly located in Bubbly Clouds.
The City: A big city with a strong resemblance to Cappy Town in the anime.
World of Peace - Dream Land
is the first level in
Kirby Star Allies
, preceding
Planet Popstar
. This level is set in Dream Land,
Kirby
's home. It features lush grasslands, forests, streams, caves, and
Dedede's Castle
.
King Dedede
serves as the boss of this level. This level has a HAL room located in 
Fruity Forest
.
Stages
A Dream Palace can be found in this world, it is unlocked through the big switch in Donut Dome.
Copy Abilities
Related Locations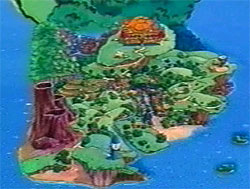 Dream Land is the main setting for Kirby's anime series. It is located on a peninsula somewhere on Popstar. The climate is tropical, and so the weather is most often warm and humid, with sudden rainstorms being common. Both tropical and temperate species of plants and animals can be found there, however.
As in the games, King Dedede rules over it from his castle high atop a hill. There is only one town, Cappy Town and the main inhabitants are the Cappies, though other races are present as well, the Waddle Dees in Dedede's Castle outnumber the Cappies, there is also Kawasaki, Tiff's family, and the Kirby race (Kirby and Meta Knight).
Known Places
This is not to be confused with the location known as Dream Land within the games, or the other Kirby-based stages of the Super Smash Bros. series such as the Fountain of Dreams, Green Greens, Halberd, or The Great Cave Offensive.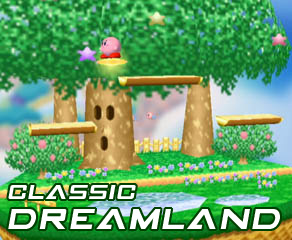 Dream Land
is a stage in
Super Smash Bros.
, an unlockable Past Stage in
Super Smash Bros. Melee
and a downloadable stage in
Super Smash Bros. for Nintendo 3DS
and
Wii U
.

The stage was first introduced in Super Smash Bros., and is also the stage where the player must fight a group of Kirbys in Classic Mode. It is a rather simple stage, and is similar to other stages like Super Smash Bros. Melee's Battlefield and Fountain of Dreams where it has three platforms floating over a main one. Whispy Woods appears in the background of this stage. He will occasionally blow toward one side of the stage which can cause players to fall off the edges of the stage. His wind seems a little more powerful here than it is in Green Greens, a similar stage in the next Super Smash Bros. game.
Dream Land is also available in Super Smash Bros. Melee under the name "Past Stages: Dream Land", and is one of the three unlockable Past Stages from Super Smash Bros. It is unlocked by beating Target Test with every character.
Dream Land does not appear in Super Smash Bros. Brawl, and Green Greens is instead used, serving the same purpose Dream Land served in Super Smash Bros. Melee as a past stage.
A new Dream Land stage appears in Super Smash Bros. for Nintendo 3DS: it takes the form of Kirby's Dream Land on the screen of an original DMG-001 Game Boy. The stage initially takes the appearance of Green Greens, with the borders of the screen being a Game Boy's casing. It will eventually scroll to the right and the stage's environment and music will change. Other than Green Greens, the stage has sections from Castle Lololo, Float Islands, Bubbly Clouds, and Castle Dedede.
Holding L while selecting Dream Land causes the stage to appear black and white (like the Virtual Console releases of Game Boy games) rather than black and green.
The classic Dream Land stage from Super Smash Bros. was released as downloadable content for both versions of the game. The stage is titled "Dream Land (64)" in these games.
Related Quotes
"

On a tiny star somewhere far, far away from earth, there is a very special place known as Dream Land.

"

— 

Introduction

 • Kirby's Dream Land instruction manual
Trivia
When the screen begins to scroll in Super Smash Bros. for Nintendo 3DS's Dream Land stage, a glove appears to point the scrolling direction. This glove is the same one that wakes Kirby on the "game over" screen in Kirby's Dream Land.
In Kirby Star Allies, one can sometimes see Dyna Blade flying in the sky behind Clash at Castle Dedede.
Gallery