This article is currently under construction
(Edit | Similar)
It is not complete by community standards, but you can help by adding information and images.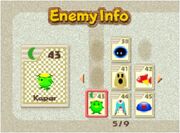 "

Collect Enemy Info Cards in Bonus Games.

"

— Kirby 64: The Crystal Shards instruction manual
Enemy Info Cards are collectible items in Kirby 64: The Crystal Shards. These cards let the player learn the names of various enemies found in the game, as well as what Copy Ability they possess. Enemy Info Cards can be obtained in the goal games in the end of each stage, if Kirby can manage to land on one, during the goal game. The only way to see which cards Kirby has is through the Enemy Info Card menu.
List
Trivia
Flashing cards indicate new characters.
Sometimes, Kirby will have a disappointed face to indicate that he has two or more of the same card.
During the goal game, Enemy Info Cards simply have question marks on them.