Ad blocker interference detected!
Wikia is a free-to-use site that makes money from advertising. We have a modified experience for viewers using ad blockers

Wikia is not accessible if you've made further modifications. Remove the custom ad blocker rule(s) and the page will load as expected.
Places

Kirby: Triple Deluxe screenshot
Fine Fields
World
Theme
Grassland and forests
Bosses
Flowery Woods
Common enemies
Beetley, Big Gordo, Big Waddle Dee, Birdon, Blade Knight, Bronto Burt, Broom Hatter, Cannon Tower, Cappy, Chip, Flamer, Gordo, Grizzo, Hot Head, Kabu, Mowlee Bros., Noddy, Pipe Worm, Ringle, Shotzo, Sir Kibble, Sparky, Tick, Waddle Dee, Waddle Doo, Whippy
Mid-bosses
Mr. Frosty, Hornhead, Blocky DX
Fine Fields is the first floating island of Floralia and serves as the first level in Kirby: Triple Deluxe.
General Information
Fine Fields is a grassland covered with flowers, though caves and thick forests can be found here as well. Boulders and falling evergreens serve as hazards, making Kirby's adventure here more than a walk in the park. This is where the pink puff's journey to free King Dedede from Taranza begins.
The game's first HAL Room can be found in Stage 3 of Fine Fields. In the second room, Kirby must touch the right side of the screen in the background, then return to his starting point to the left. A 3D Warp Star will have appeared in the foreground, and the hero can use it to travel into the background. From there, he can head left to find the room. 
Music
Kirby: Triple Deluxe: Fine Fields
Trivia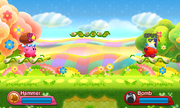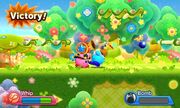 Gallery