Fossil Fools - Part II is the 76th episode of Kirby: Right Back at Ya!. It is the first appearance of the Crash Copy Ability.
Synopsis
Picking up right where the previous episode left off, everyone manages to escape the D-Rex alive, but soon find themselves swarmed by mechanical mosquitoes. And shortly after, they encounter monstrous dinosaurs in various Capy likenesses. while the Cappies are split up and being chased by the dinos, Dedede finds the source - Dr. Moro, who vanished in the last part - and is ready to tear him apart until he learns of his plans for a new dinosaur army, lead by a specific pink menace...
Episode summary
Spoiler alert: The following section contains plot-specific details.
(Skip Section)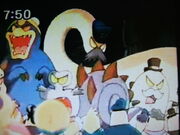 Changes to the dub
Some of the scenes in the beginning of the episode where they show the previous point were removed from the English dub due to time restraints.
The scene where it shows Kirby, Tiff, Tuff, Mr.Curio, and Dr.Moro walking to the lab in the previously point was mirrored for unknown reasons.