Places

Kirby Super Star screenshot
Halfmoon
A place in
Theme
A world of chaos and stars
Bosses
Computer Virus
Common enemies
Bio Spark, Blipper, Bomber, Bronto Burt, Gator, Glunk, Gordo, Grizzo, Jungle Bomb, Laser Ball, Noddy, Scarfy, Shotzo, Simirror
Mid-bosses
Chef Kawasaki, Iron Mam
The Eternal Star Halfmoon is the furthest star in Kirby Super Star's Milky Way Wishes sub-game, being covered in eternal night. Milky Way Wishes is a non-linear game, so the stage can be played at any time - however, it is the last "official" star of Milky Way Wishes.
Halfmoon has two parts: One half having strong winds and chaos, and the other half being covered in stars.
The chaos is the first half of the star. Those floors have high winds and fierce enemies that are either powerful or can fly. The other half is made of space-like objects, such as stars and comets. In the first room of this part, Kirby must ride a Mine Cart to destroy the stakes.
Due to the way copying abilities works in Milky Way Wishes, abilities can only be obtained from enemies using the Copy ability provided by the Copy Copy Essence Deluxe (though there are a few exceptions). Some Copy Abilities can only be found via Copy Essence if Kirby attempts to battle Computer Virus without a Copy Ability.
Trivia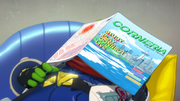 In Star Fox Zero — The Battle Begins, Slippy Toad reads a Nintendo Magazine. The name Halfmoon appears on the magazine's cover, alongside Floria, Aqualiss, and Mecheye. These are direct references to four of the planets in Kirby Super Star's Milky Way Wishes sub-game.
Ad blocker interference detected!
Wikia is a free-to-use site that makes money from advertising. We have a modified experience for viewers using ad blockers

Wikia is not accessible if you've made further modifications. Remove the custom ad blocker rule(s) and the page will load as expected.