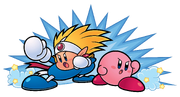 Helpers are characters that appear in Kirby Super Star, its remake, and Kirby: Star Allies. They physically appear to be regular enemies (and occasionally mid-bosses) that have different color palettes than their enemy equivalents and are summoned by Kirby to help him instead of hurt him. By sacrificing his ability, Kirby can create a Helper. Helpers are normally CPU-controlled, but can also be controlled by another player. Each Copy Ability has a corresponding Helper, excluding limited-use abilities. If the player wants to change out the Helper for another one, he or she can throw an item representing Kirby's current ability to it. Upon touching the item, the Helper will change to the character that corresponds to the ability represented by the item. Using the Normal Beam (originally called the Suppin Beam) on a Helper will call it back, transforming it into its respective item.
Unlike Kirby, Helpers can repeatedly double-jump in midair, and so do not have to inflate themselves to fly. Some Helpers like Birdon and Capsule J/Capsule J2 have an improved ability to fly. This allows Helpers to attack in midair, as they do not have to spit out air beforehand.
In Kirby Super Star Ultra, Helpers have a significant role in Helper to Hero, a sub-game where both the first and second players can play as a Helper with the goal of defeating a series bosses, thus proving the Helper to be a true hero rather than just a side character.
Games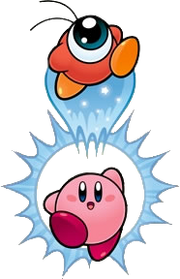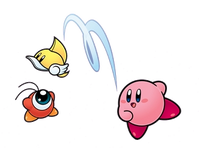 The roster of Helpers is identical in both Kirby Super Star and its remake, with the exception of Capsule J, who was replaced by Capsule J2 in the remake, and Sword Knight, who was added in Meta Knightmare Ultra. Helpers with alternate colors appear in Helper to Hero as well. 
This section is about an unreleased or cancelled game
Helpers were slated to appear in the cancelled
Kirby GCN.
In this game, up to three Helpers could be created at once. They could then be controlled by up to three players or by the computer. A stacking system had been revealed in which Kirby and his Helpers could ride on each other's backs (possibly creating new attacks). Looking at screenshots, it is discernible that the Helpers created by the player would have been yellow, green, or blue color variations of their respective enemies. These color variations would have denoted different players. Presumably, yellow denoted Player 2, blue denoted Player 3, and green denoted Player 4. These exact colors were later used to denote multiple Kirbys in 
Kirby's Return to Dream Land
. New Helpers which have not been named due to the game's cancellation would have appeared as well.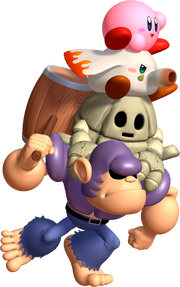 As seen in the trailer, Helpers make an appearance in this game. Unlike in Kirby Super Star and Kirby Super Star Ultra, Kirby can summon up to three Helpers instead of one. This is done by having Kirby throw a heart at an enemy that grants a Copy Ability, as opposed to forfeiting his current ability in favor of creating the Helper; Helpers also now wear the Copy Ability hats.
Trivia
In Kirby Super Star and its remake, if a helper loses all health and catches fire, it will become the helper form of any enemy it touches. This will fully restore the helper's HP.
In Kirby Super Star and its remake, when you use the normal beam on a helper they will display a pained expression, implying that it hurts.
Gallery
Ad blocker interference detected!
Wikia is a free-to-use site that makes money from advertising. We have a modified experience for viewers using ad blockers

Wikia is not accessible if you've made further modifications. Remove the custom ad blocker rule(s) and the page will load as expected.