"

Control Kirby in this adventure spanning three dimensions! Inhale enemies, spit them at other enemies, and rack up combos to get a high score! For more information about this minigame, select Tutorial from the level-selection screen.

"

— 

Instruction manual

 • Kirby: Planet Robobot
Kirby 3D Rumble is a sub-game in Kirby: Planet Robobot, featuring full 3D styled gameplay for the first time in the Kirby series. The goal of the sub-game is to defeat enemies and collect coins as quickly as possible in order to reach a high score.
Gameplay
The game controls like a standard Kirby game, but with changes made to fit the 3D format. These differences are:
Kirby will automatically dash when moved via the +Control Pad, but will walk when the Circle Pad is moved slightly and dash when it is moved farther.
Kirby cannot float indefinitely as usual and will instead slow down and stop after a certain point, similarly to Kirby 64: The Crystal Shards, Kirby Fighters, or the Super Smash Bros. series.
All other abilities, such as inhaling and spitting, work the same way as usual.
The goal of each stage is to defeat all of the enemies as fast as possible and with as many defeated in a row at once as possible. Enemies will line themselves up in ways that several can be inhaled at once and, with correct timing, can be used to defeat multiple enemies in a row.
The stages are set up in a small, flat areas with a few obstacles such as small raised platforms and fences, and enemies appear in succession until they are all defeated, when a warp star will appear and take the player to the next part of the stage (each stage being split up into four or five sections, with a boss appearing at the end of each).
Coins are also scattered throughout each stage, which can be collected for more points.
Bronze, silver, gold, or platinum trophies are awarded for different scores, with bronze being the lowest and platinum the highest.
Bonuses
Bonuses are awarded if the player completes certain tasks before defeating the boss. These are:
No Damage
Speed Clear
All Coins
Full Combos
Stages
| Stage | Sections | Description | Image |
| --- | --- | --- | --- |
| Level 1 | Four sections | Level 1 has green colored platforms and simple obstacles. It appears to be based on Green Greens and uses the Green Greens theme from Kirby Super Star Ultra as background music. | |
| Level 2 | Four sections | Level 2 has yellow, autumn-colored platforms and more simple obstacles. It uses the Candy Mountain theme from Kirby Super Star Ultra as background music. | |
| Level 3 | Five sections | Level 3 has dark green colored platforms and slightly more complicated obstacles and enemy placements. The background music is Celestial Valley's theme from Kirby Air Ride. There are three progressively more difficult versions of Masher to battle at the end of the stage instead of the usual single Masher. | |
Related Quotes
"

Defeat enemies in 3D stages, and go for the high score!

"

— 

Tutorial description

 • Kirby: Planet Robobot
"

If you are playing on a New Nintendo 3DS or New Nintendo 3DS XL system, you can slightly change the camera angle using the C Stick.

"

— 

Instruction manual

 • 

Kirby: Planet Robobot
Concept artwork
Logos
Trivia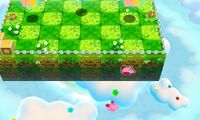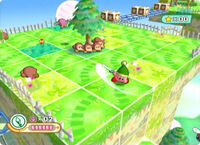 Gallery
Ad blocker interference detected!
Wikia is a free-to-use site that makes money from advertising. We have a modified experience for viewers using ad blockers

Wikia is not accessible if you've made further modifications. Remove the custom ad blocker rule(s) and the page will load as expected.