Copy
Copy
is one of the more niche abilities first appearing in
Kirby Super Star
- Kirby dons a high-tech scanning visor which lets him obtain the copy abilities from enemies. It sounds counter-intuitive, as Kirby can naturally do that without any ability, but Kirby can relinquish copy to give a
TAC
Helper
, which lets the second player copy his own abilities as long as he/she is controlling
TAC
. It can also destroy mini-bosses outright and grant Kirby the ability without having to defeat them first and inhale them. When used on enemies which do not give abilities, like
Waddle Dees
, they are simply vaporised.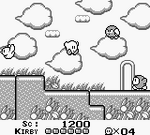 If the player pauses
Kirby's Dream Land
and waits 20 seconds,
Kirby
will begin dancing, even if he is in mid-air. After the dance is over, he will return to his original pose and then remain idle until the game is unpaused.


What do you think about Kirby: Planet Robobot?
What rating (out of ten) would you give Kirby and the Rainbow Curse?