Ice
Similar to
Freeze
,
Ice
lets Kirby breathe a cone of frigid air to freeze individual enemies into ice blocks , which explode shortly or can be kicked and used as projectiles against the others. Similar to
Fire
, it is introduced as early as
Kirby's Adventure
, with similar basic mechanics and offensive potential. Ice Kirby wears a crystalline crown with an orange or blue jewel and gold mounting, and turns a bluish hue.



What do you think about Kirby: Planet Robobot?
What rating (out of ten) would you give Kirby and the Rainbow Curse?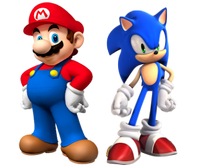 Platformer Games
Go to these sites for info or for help with your own wiki!
Azure Striker Gunvolt • Broforce • Cave Story • Crash Bandicoot • Donkey Kong • Drawn to Life • Geometry Dash • Jak and Daxter • Kirby • Kya: Dark Lineage • LittleBigPlanet • Mario • Mega Man • Metal Slug • Metroid • Mirror's Edge • Oddworld • Ratchet & Clank • Rayman • Shantae (and WayForward games) • Shovel Knight • Sly Cooper • Sonic • Spyro the Dragon • Strider
Want your community included? See how!