Rick
One of
Kirby
's six
Animal Friends
.
Rick
is a roly-poly hamster, almost as large as
Nago
, and equally roly-poly cat. Rick made his debut in
Kirby's Dream Land 2
, and like all Animal Friends, he shares and augments Kirby's
Copy Abilities
. Rick's personal relationship is with his love interest,
Pick
. Rick appears in
Kirby: Right Back at Ya!
, living beneath the roots of
Acore
the great tree, but his relationship with Kirby isn't what it was in the preceding games. Kirby and Rick are rarely seen together, and directly interact even less, but they are still friends nonetheless.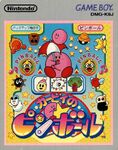 Kirby's Pinball Land
's default high-score table, which consists of ZEPHYRA, PHYSALI, DENDROB, and GERBERA, is a reference to the robot anime
Mobile Suit Gundam 0083
; the robots used by the primary protagonists and antagonists are named "GP01
Zephyra
nthes", "GP02
Physali
s", "GP03
Dendrob
ium", and "
Gerbera
Tetra."

Music playlists currently down


18th July 2015

Playlists for music documentation are currently down, due to deprecation of the YouTube v2 gdata API that we were using to pull data from Google's servers. Until we port over the JavaScript to v3 of the API, they will remain down. Only the pages and templates that display the whole playlist are affected. Individual embedded music players should still work correctly.
Kirby and the Rainbow Curse launched in Japan


22nd January 2015

Kirby and the Rainbow Curse has officially launched in Japan. The game is scheduled to launch in North America on Friday, February 20, 2015. To editors: The Kirby Wiki community adamantly encourages you to consider others when adding spoiler information about Kirby and the Rainbow Curse. Spoiler material is valuable to us as a database and will be treated as such. However, we implore you to cover this information using Template:Spoiler or to avoid writing it altogether until the game launches in North America.
Kirby and the Rainbow Curse Japanese website launched


25th December 2014

Kirby and the Rainbow Curse's website has launched in Japan, complete with additional trailers and footage of the game. No such site has been launched in North America. The game itself is still set to launch in Japan on Thursday, January 22, 2015; and in North America on Friday, February 13, 2015.
Kirby and the Rainbow Curse Announced at E3 2014 for Wii U


10th June 2014

The tentatively titled Kirby and the Rainbow Curse was announced today by Nintendo at E3 2014. It will be the first Kirby game for the Wii U. Information on this title is currently limited, but we will keep the site updated as more information is revealed.
Kirby: Triple Deluxe North American Release Date


13th February 2014

Announced in the February 2014 Nintendo Direct, Kirby: Triple Deluxe will be released on Friday, May 2nd, 2014 in North America. The European release date of Friday, May 16th, 2014 was announced as well.
Fluid layout


3rd December 2013

Wikia is setting the page layouts to fluid on all wikis under their administration starting December 4th, so expect some elements looking out of place or layout problems until they are fixed. You can find more information here.

What do you think about Kirby and the Rainbow Curse?
What rating (out of ten) would you give Kirby Triple Deluxe?