Ribbon
Ribbon
is a
Fairy
in
Kirby 64: The Crystal Shards
. When
Dark Matter
attacked
Ripple Star
, her home, the
Queen Fairy
told her to escape with the
Power Crystal
. She did so but was attacked by Dark Matter, who shattered the crystal into 74 pieces and caused her to crash-land in
Dream Land
, right on top of a stargazing
Kirby
. The two eventually confront the true evil behind the dark matter,
0²
. Ribbon flies and carries Kirby while Kirby makes use of
Ribbon's Shard Gun
against him. Kirby, Ribbon, and the rest of the team are proclaimed heroes and given medals when they went back to Ripple Star, and Kirby parts ways with Ribbon with either a handshake or a peck on the cheek from Ribbon.

Some of
Meta Knight
's concept artwork depicted him as a butterfly-like character with red wings, markings and antennae on his mask, and a jewel-encrusted sword in his hand.

What rating (out of ten) would you give Kirby Battle Royale?
What do you think about Kirby Star Allies?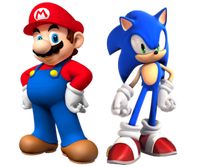 Platformer Games
Go to these sites for info or for help with your own wiki!
A Hat in Time • Azure Striker Gunvolt • Banjo-Kazooie • Broforce • Castlevania • Cave Story • Code: Hardcore • Conker • Contra • Crash Bandicoot • Croc • Cuphead • Donkey Kong • Drawn to Life • Epic Mickey • Freedom Planet • Ganbare Goemon • Geometry Dash • Jak and Daxter • Kirby • LittleBigPlanet • Mario • Mega Man • Metal Slug • Metroid • Oddworld • Ratchet & Clank • Rayman • Shantae (and WayForward games) • Shovel Knight • Sonic • Spyro the Dragon • Strider • Yooka-Laylee
Want your community included? See how!

Ad blocker interference detected!
Wikia is a free-to-use site that makes money from advertising. We have a modified experience for viewers using ad blockers

Wikia is not accessible if you've made further modifications. Remove the custom ad blocker rule(s) and the page will load as expected.