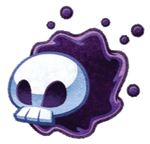 The
Skull Gang
's color scheme in
Kirby Mass Attack
is more significant than it appears. The members' clouds are black and purple because in Japanese culture, those colors symbolize night and death, respectively.
Necrodeus
and
Skullseer
both have red eyes, which is symbolic of anger or danger.


What do you think about Kirby: Planet Robobot?
What rating (out of ten) would you give Kirby and the Rainbow Curse?