Ad blocker interference detected!
Wikia is a free-to-use site that makes money from advertising. We have a modified experience for viewers using ad blockers

Wikia is not accessible if you've made further modifications. Remove the custom ad blocker rule(s) and the page will load as expected.
Places

Kirby: Triple Deluxe screenshot
Lollipop Land
World
Theme
Desserts, indoor aquatic areas, haunted circuses
Bosses
Paintra
Common enemies
Big Missile, Big Waddle Dee, Blipper, Bronto Burt, Broom Hatter, Cappy, Chilly, Chip, Clown Acrobot, Craby, Furnace Bot, Fuwa Rover, Gordo, Grizzo, Horror Tramp, Hot Head, Kabu, Key Dee, Knuckle Joe, Lanzer, Mamanti, Moonja, Noddy, Parasol, Parasol Waddle Dee, Poppy Bros. Jr., Rocky, Scarfy, Search, Shotzo, Sir Kibble, Sparky, Springy Hand, Spynum, Squishy, Waddle Dee, Waddle Doo, Wheelie, Whippy
Mid-bosses
Grand Wheelie, Gigant Edge, Flame Galboros DX
Lollipop Land is the second floating island of Floralia and serves as the second level in Kirby: Triple Deluxe.
General Information
Lollipop Land is a cheerful area abundant with sweets -- desserts are scattered all over the ground and even grow like flowers. Some stages take place inside unusual indoor areas with jigsaw puzzle backgrounds and bodies of water. Kirby has to watch out for candy-shooting tanks and a paranormal circus as he tries to catch up with Taranza and free King Dedede.
Trivia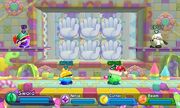 A stage based off of Stage 3 of Lollipop Land appears in Kirby Fighters Deluxe. It is called Springy Hand Land.
In the French version of Kirby: Triple Deluxe, Lollipop Land is called Lieux Ludiques -- "Playful Places" in French.
The music that plays in Stage 2 of Lollipop Land (track 22 in the Sound Test), called "Toy Rhythm," was made to feel like music from the Nintendo Entertainment System. The developers had an NES to use for reference.
Scenery from Lollipop Land is used as a backdrop for some Kirby: Triple Deluxe-themed badge catchers and badge albums in Nintendo Badge Arcade.
Gallery