Mini
An extremely rare ability only featured in
Kirby & the Amazing Mirror
, Kirby shrinks from eight inches tall to four after inhaling an equally miniature enemy called the
Minny
. Mini leaves Kirby completely defenseless and the use of the cell phone is forfeited, but Kirby can enter cracks and crevices and obtain the treasures inside. The
Copy Ability
is lost once Kirby passes through a door, or if he takes any damage.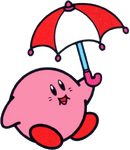 Hiroaki Suga, the main leader and programmer of
Kirby's Adventure
, expressed concern when confronted with the idea of creating 24 individual
Copy Abilities
. The work required to accomplish them all would roughly equal the amount needed to make several NES/Famicom games.


What do you think about Kirby: Planet Robobot?
What rating (out of ten) would you give Kirby and the Rainbow Curse?