Oohroo
Oohroo
is an enemy in
Kirby Mass Attack
. From time to time, they fume angrily and spin their fists about rapidly. If any
Kirby
contacts them at this time, he will take damage and be flung back.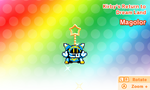 In the Kirby's 20th Anniversary puzzle found in
Streetpass Mii Plaza
,
Magolor
's sprite depicts him with black skin rather than his usual brown. This sprite, unaltered, was reused for his
keychain
in
Kirby: Triple Deluxe
. The balloon sculpture
Circus
Kirby
can make of him also uses black for his facial color. Similarly,
Taranza
's keychain sprite uses black for his skin color rather than brown.


What do you think about Kirby: Planet Robobot?
What rating (out of ten) would you give Kirby and the Rainbow Curse?