Crash
A one-use ability that gives the single highest one-shot damage that takes out everything on the screen, and makes bosses think twice before crossing
Crash
Kirby
. In
Kirby's Adventure
, Kirby freezes everything on-screen on the spot and warps around obliterating everything, but in subsequent games, he releases a pulse that achieves the same effect. Crash Kirby has no hat in the games, but he wears a yellow and blue decorative helmet in
Kirby: Right Back at Ya!
.

If the player remains on
Kirby Tilt 'n' Tumble
's title screen long enough, a stream of multi-colored moons and stars will begin flowing down the screen. A small sprite of
Kirby
will appear as well. Tilting the Game Boy will change the direction and speed of the stream, allowing the player to blow Kirby around in any direction wanted.


What do you think about Kirby: Planet Robobot?
What rating (out of ten) would you give Kirby and the Rainbow Curse?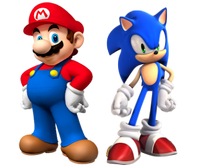 Platformer Games
Go to these sites for info or for help with your own wiki!
Azure Striker Gunvolt • Banjo-Kazooie • Broforce • Cave Story • Code: Hardcore • Conker • Contra • Crash Bandicoot • Donkey Kong • Drawn to Life • Freedom Planet • Geometry Dash • Jak and Daxter • Kirby • LittleBigPlanet • Mario • Mega Man • Metal Slug • Metroid • Mirror's Edge • Oddworld • Ratchet & Clank • Rayman • Shantae (and WayForward games) • Shovel Knight • Sly Cooper • Sonic • Spyro the Dragon • Strider • Tearaway
Want your community included? See how!

Ad blocker interference detected!
Wikia is a free-to-use site that makes money from advertising. We have a modified experience for viewers using ad blockers

Wikia is not accessible if you've made further modifications. Remove the custom ad blocker rule(s) and the page will load as expected.