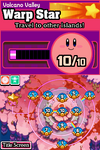 The early level map for
Volcano Valley
found in
Kirby Mass Attack
's code has a more pinkish-purple hue and sports lanterns with green flames, structures emitting a green glow, and a dark fortress in the place of the volcano. This suggests that the level was originally planned to be less volcanic and more dark-themed, as seen in its later stages.

What rating (out of ten) would you give Team Kirby Clash Deluxe?
What rating (out of ten) would you give Kirby: Planet Robobot?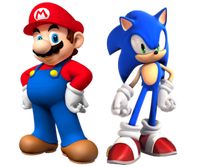 Platformer Games
Go to these sites for info or for help with your own wiki!
A Hat in Time • Azure Striker Gunvolt • Banjo-Kazooie • Broforce • Castlevania • Cave Story • Code: Hardcore • Conker • Contra • Crash Bandicoot • Croc • Cuphead • Donkey Kong • Drawn to Life • Epic Mickey • Freedom Planet • Geometry Dash • Jak and Daxter • Kirby • LittleBigPlanet • Mario • Mega Man • Metal Slug • Metroid • Oddworld • Ratchet & Clank • Rayman • Shantae (and WayForward games) • Shovel Knight • Sonic • Spyro the Dragon • Strider • Yooka-Laylee
Want your community included? See how!

Ad blocker interference detected!
Wikia is a free-to-use site that makes money from advertising. We have a modified experience for viewers using ad blockers

Wikia is not accessible if you've made further modifications. Remove the custom ad blocker rule(s) and the page will load as expected.