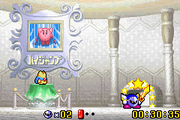 Museums are bonus rooms found in most of the level lobbies in Kirby's Adventure and Kirby: Nightmare in Dream Land. They are spacious, mostly empty buildings with the exception of one or two enemies standing on pedestals.
These enemies are just replicas and do not move from their place, nor can they hurt Kirby. However, they can still be inhaled for a Copy Ability. The purpose of the Museums is to offer Kirby certain Copy Abilities safely without the inconvenience of having to search for them in stages.
List of Museums
Other Quotes
"

Here is the colorful display of enemies with special abilities! Eat the one you want!

"

— 

Museum's description

 • Kirby's Adventure
Trivia
Ad blocker interference detected!
Wikia is a free-to-use site that makes money from advertising. We have a modified experience for viewers using ad blockers

Wikia is not accessible if you've made further modifications. Remove the custom ad blocker rule(s) and the page will load as expected.