Ad blocker interference detected!
Wikia is a free-to-use site that makes money from advertising. We have a modified experience for viewers using ad blockers

Wikia is not accessible if you've made further modifications. Remove the custom ad blocker rule(s) and the page will load as expected.
Places

Kirby: Triple Deluxe screenshot
Old Odyssey
World
Theme
Cliffs, arctic tundra
Bosses
Kracko
Common enemies
Birdon, Blade Knight, Bronto Burt, Broom Hatter, Cappy, Chilly, Chip, Clown Acrobot, Como, Dekabu, Flamer, Foley, Gigant Chicks, Gigatzo, Gordo, Grizzo, Hot Head, Hunter Scarfy, Kabu, Key Dee, Knuckle Joe, Leafan, Moonja, Mumbies, Noddy, Pacto, Parasol, Parasol Waddle Dee, Pierce, Poppy Bros. Jr., Ringle, Rocky, Scarfy, Shotzo, Sir Kibble, Soarar, Sparky, Spynum, Tick, Waddle Dee Steel Fortress, Waddle Dee, Waddle Dee Train, Waddle Doo, Walky, Whippy
Mid-bosses
Bonkers, Flame Galboros, Mr. Frosty DX
Old Odyssey is the third floating island of Floralia and serves as the third level in Kirby: Triple Deluxe.
General Information
Old Odyssey is an island covered in cliffs and icy biomes. Sunsets and vast fountains are commonly seen in these respective places. Kirby will often fire himself out of cannons to travel around this area. He must watch out for collapsing mineral pillars and gigantic rolling snowballs on this leg of the adventure. Regardless, the hero must endure and catch up with Taranza to save King Dedede.
Trivia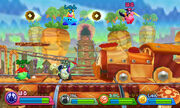 A stage based off of Stage 1 of Old Odyssey appears in Kirby Fighters Deluxe. It is called Waddle Dee Train Tracks. Unlike other stages in the sub-game, it can only be unlocked if the player owns a copy of Kirby: Triple Deluxe.
Gallery