Ad blocker interference detected!
Wikia is a free-to-use site that makes money from advertising. We have a modified experience for viewers using ad blockers

Wikia is not accessible if you've made further modifications. Remove the custom ad blocker rule(s) and the page will load as expected.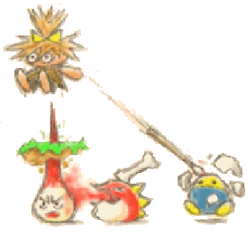 Regular enemies are common obstacles in the Kirby series. They inhabit the many levels in the series. Most can usually be easily defeated in one or two hits. Kirby's inhale ability can take out all but certain ones instantly. Starting from Kirby's Adventure, some give Kirby a Copy Ability when inhaled, while others do not (these enemies are referred to as ability-neutral enemies). Most of them respawn even if they were just defeated a short while ago should the screen scroll back to where they originally appeared; almost all of them reappear if a room is exited and re-entered through a door. Only special ones like UFOs or Crets do not reappear until the whole level is restarted, and certain ones are invulnerable to every form of attack and can only be avoided. Others can only be defeated with Super Abilities or the Hypernova ability.
List