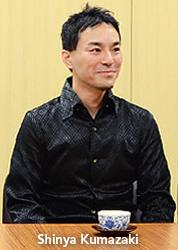 Shinya Kumazaki (クマザキ) is a Japanese video game concept designer, an employee at HAL Laboratory, and a creative force behind Nintendo's Kirby series. He began as a designer on Kirby Air Ride and Kirby: Canvas Curse. The first Kirby game he directed was Kirby Super Star Ultra, released in 2008.
Additionally, Kumazaki has done voice work for the series. He has voiced King Dedede and related characters in various games.
Kumazaki considers "devices, maps, and tough boss battles" the essential components of quality action games.[1] His favorite main series and spin-off Kirby games are Kirby's Adventure and Kirby Air Ride, respectively.[2][3]
Credits
Director
General Director
Design
Special Thanks
Voice Acting
Trivia

References
Ad blocker interference detected!
Wikia is a free-to-use site that makes money from advertising. We have a modified experience for viewers using ad blockers

Wikia is not accessible if you've made further modifications. Remove the custom ad blocker rule(s) and the page will load as expected.