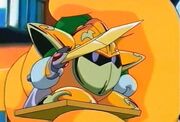 Sir Arthur is a high-ranking Star Warrior and the leader of Galaxy Soldier Army. He only appears in the anime Kirby: Right Back at Ya!.
Appearance
He has dark green skin, purple-blue eyes, a green mask and his armor is golden and star-shaped. He wields a gold and silver sword with a red gem on the hilt.
Sir Arthur appears very rarely in the anime.
Here is a list of episodes Sir Arthur appears in:
Ad blocker interference detected!
Wikia is a free-to-use site that makes money from advertising. We have a modified experience for viewers using ad blockers

Wikia is not accessible if you've made further modifications. Remove the custom ad blocker rule(s) and the page will load as expected.