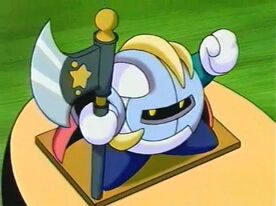 Sir Lancelot is one of the few survivors of the war between the Galaxy Soldier Army and Nightmare Enterprises. He, like Sir Arthur and the other two of his knights, is also a Star Warrior and member of the Galaxy Soldier Army.
He has blue feet, has turquoise flesh with a white helmet with a cut-up mask, wears a red cape, and carries around an axe with a star on it, unlike the other three knights. Just like the other three knights, Lancelot only appears in Kirby: Right Back at Ya!. In Snack Attack - Part I, he is seen as a figure obtained from chocolate capsules sold at Tuggle's market in Cappy Town.
Name Origins
All of Sir Arthur's knights are named after the Knights of the Round Table. Lancelot was one of the many knights who helped King Arthur in legends.
Ad blocker interference detected!
Wikia is a free-to-use site that makes money from advertising. We have a modified experience for viewers using ad blockers

Wikia is not accessible if you've made further modifications. Remove the custom ad blocker rule(s) and the page will load as expected.