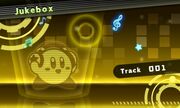 The Sound Test is a recurring menu feature that appears in many games in the Kirby series. More often than not, it needs to be unlocked by fulfilling certain requirements.
The Sound Test allows the player to listen to both music and sound bytes from the game anytime he or she wants from it. Kirby's Epic Yarn, Kirby Mass Attack, Kirby: Triple Deluxe, Kirby and the Rainbow Curse, and Kirby: Planet Robobot are the only games in which sound effects are omitted from the Sound Test.
Games the Sound Test is available in
Sound Player
The Sound Player is a collectible item in Kirby & The Amazing Mirror and Kirby: Squeak Squad, and must be found before the player can access the Sound Test menu. In other games, the sound test is built into the menu system at the start, so the Sound Player is not present.
Interestingly, some games have otherwise unused tracks that can only be heard with this feature. For example, Kirby 64: The Crystal Shards has a remix of Kine's theme from Kirby's Dream Land 3 that isn't used, but it can be heard as Track 2 on the Sound Check.
Sprites
Related Quotes
"
You can listen to music and sounds from the game here—your list of sounds will grow as you clear games. Tap ←→ or use [the +Control Pad] to select songs and sounds. Tap the panel in the middle or press A to play.

"

— 

Instruction manual description

 • Kirby Super Star Ultra
"

You've unlocked Sound Test, where you can listen to all your favorite game music!

"

— 

Description

 • Kirby: Triple Deluxe
Trivia
The image shown in the Sound Test in Kirby's Dream Land 2 is a parody of a scene from the Japanese video game Yūyūki.
When listening to music in the Sound Test in Kirby 64: The Crystal Shards, Kirby's expression will change based on the mood of the track.
One can see pictures of a Waddle Dee, Kirby's House, and the blooming Dreamstalk in the background of the Jukebox in Kirby: Triple Deluxe.
When playing the Jukebox in Kirby: Triple Deluxe, red or blue music notes are emitted from the speakers. Tracks with red notes were composed by Jun Ishikawa. Tracks with blue notes were composed by Hirokazu Ando.[1] This also seems to be the case with Kirby: Planet Robobot.
When playing a song on the Jukebox in Kirby: Planet Robobot, there is a rare chance that the Kirby wearing the headphones will change into an 8-bit Kirby, which will start dancing while the music is playing. He will stay until leaving the Jukebox.
Oddly, in Kirby: Planet Robobot's Jukebox, some of the music tracks are actually sound effects in the game, such as the defeat of Susie, the Dedede Clones, and President Haltmann, as well as Star Dream's cat-like screech after destroying a large portion of Access Ark.
Gallery
References