Places

Kirby Super Star screenshot
Sub-Tree Area
A place in
Theme
Subterranean jungle
Treasures
Many
Bosses
Fatty Whale
Common enemies
Birdon, Blipper, Bronto Burt, Gator, Gordo, Grizzo, Kabu, Knuckle Joe, Lovely, Magical Sweeper, Plasma Wisp, Poppy Bros. Jr., Scarfy, Simirror, Sir Kibble, Squishy, Tac, Waddle Dee, Waddle Doo
Mid-bosses
Bonkers
Sub-Tree Area is a subterranean jungle located beneath Dream Land. It is the first area traversed in The Great Cave Offensive and precedes Crystal Area. Sub-Tree Area marks the first appearance of Fatty Whale.
Despite being a jungle, Sub-Tree Area has just a few jungle-themed enemies.
Treasures
Gold Medal
Gold Coin
Whip
Crystal Ball
Lucky Cat
Seiryu Sword
Echigo Candy
Star Stone
Beast's Fang
Bandana
Seasons Heart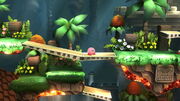 Sub-Tree Area appears in The Great Cave Offensive stage in Super Smash Bros. for Wii U. It takes up the top of the stage.
Ad blocker interference detected!
Wikia is a free-to-use site that makes money from advertising. We have a modified experience for viewers using ad blockers

Wikia is not accessible if you've made further modifications. Remove the custom ad blocker rule(s) and the page will load as expected.