"

I just saw Kirby this morning, and I don't remember him sucking up my house

"

— A Cappy, in Un-Reality TV
"

There are times, when video games stop being video games. And they ascend — to legend.

"

— Joel from Vinesauce
Other places to find me:
Nintendo Friends | backloggery | deviantART | YouTube | Colors! 3D | MiiVerse
---
Kirby Wiki distribution
Mainspace
1,420
Talk
113
User
101
User talk
232
Kirby Wiki
11
Kirby Wiki talk
0
File
361
File talk
0
Mediawiki
8
Template
254
Template talk
1
Category
25
Category talk
3
Blog
2
User blog comment
6
Total
2,641
Kirby Wiki's resident Fluttershy aficionado!

Hello everyone! I'm Gioku, a budding game designer and founder of the brand-new indie game company, Electric Prune Juice! I'm also a proud Nintendo gamer and brony for life!
I love Fluttershy, Shy Guys, Pac-Man, and Kirby!
I've been a fan of Kirby since 2010, when I got my DS Lite, and shortly after, Kirby Super Star Ultra! I've since lost my DS Lite, but I now have an Aqua Blue Nintendo 3DS as my gaming pride and joy!
I love this site a lot, and I take pride in making sure it's neat and tidy, up-to-date, and vandalism free!
Also, if you need any help with formatting, wikicode, HTML, or templates, I'm the girl to ask!
Projects
I add missing screenshots on a variety of subjects when I have the time.
I also try to keep templates up to date whenever necessary (such as when new information needs to be added to them).
From time to time I do general site maintenance, just cruising the wiki and fixing grammatical errors, improving flow or removing subjective or unnecessary pieces.

Kirby Games I Own
These are the games in the Kirby series that I own, in order of when I got them. For a list of every video game I own, click here!
Games I've Made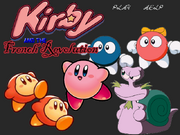 In case you didn't know, I make games! I won't list them all here (you can visit the above link for that), but I did create one Kirby fan game: I made Kirby and the French Revolution for a school project when I was in 8th grade! I've gotten better since then, but I'm still proud of it! And it's my best game for talking about on this site (since it's Kirby related, after all).
Favorite Stuff
Some of my favorite Kirby stuff!
Characters
Music
Stage Medley Acoustic Version - (KSSU Soundtrack Bonus Track)
Tree to Tree - (KMA)
---
Sub-User Pages | User:Gioku/Games | User:Gioku/Kirby and the French Revolution | User:Gioku/Workshop