Ad blocker interference detected!
Wikia is a free-to-use site that makes money from advertising. We have a modified experience for viewers using ad blockers

Wikia is not accessible if you've made further modifications. Remove the custom ad blocker rule(s) and the page will load as expected.
First came dark matter after zero,zero2 and magolor soul now is Dark crater's time!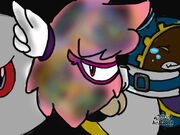 can be seen that his eye looks like Magolor Soul's that looks like Zero 2 and he throw projects,like the original 0
when kirby hits him he shows a Dark core,looking like 0 in KDL3's first cutscene...
continuing:can be seen too that dark crafter have a battle similar to 0 that is fly through the sky and launch projectiles at the beast i saw that a note on his battle theme is similar to Magolor Soul's battle theme (CROWNED)
new reports can be added in future
THANKS TO MY FRIEND LEELEE THAT HELPED AT DARK CRAFTER STYLE AND THANKS TO SKYLAR THAT HELPED AT THE CHEERING AND THE RENDER
DRAWING MADE BY ME
KIRBY BELONGS TO NINTENDO
DARK CRAFTER IS LOVE,DARK CRAFTER IS LIFE