THIS MATCH WAS BETWEEN FATTY WHALE AND STORO SORRY IT GOT ALL MESSED UP
POLL OVER
Final Score: Fatty Whale, 3. Storo, 2.
WINNER: FATTY WHALE!
This battle saw a match of true blue, but water beat land as Storo tried to pound Fatty Whale. Fatty Whale moved out of the way as Storo dove right under, and then drowned in the water. Now, one member of the Squeak Squad has been eliminated, four yet remain.
Battle 2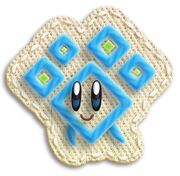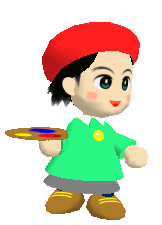 This match is a battle between two of Kirby's less appreciated friends.
These two both show artistic talent, Beadrix loves beads while Adeleine likes to paint. They have both helped out Kirby on a few occasions, and both appear on home console games!
Will Beadrix bead out Adeleine, or will Adeleine paint Beadrix?
POLL OVER
Final Score: Beadrix, 1. Adelaine, 4.
WINNER: ADELAINE!
While Kirby's Epic Yarn got better reviews than Kirby 64: The Crystal Shards, Adelaine managed to paint Beadrix green with envy and move on to the next round!
Battle 3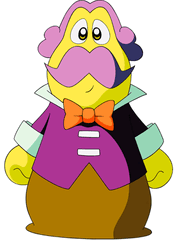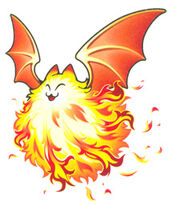 Another battle between brains and brawn is about to take place.
Earlier in the tournament, we had NOVA vs. Paint Roller... and Paint Roller used his smarts to destroy NOVA. However, Sir Ebrum is also a coward... and might not be brave enough to face Batafire. Batafire, on the other hand, is fast, brave, and super powerful!
Will Sir Ebrum outsmart Batafire like Paint Roller did with NOVA, or will Batafire BURN Sir Ebrum?
POLL CLOSED
Final Score: Sir Ebrum, 1. Batafire, 4.
WINNER: BATAFIRE!
Sure, Paint Roller outwitted NOVA and blew him up, but the same tactic didn't work with Sir Ebrum. While he was trying to think of ways to defeat Batafire, the flaming bat came out of nowhere and reduced Sir Ebrum to ash. Without him, what will Lady Like do? Batafire advances to Round 2.
Battle 4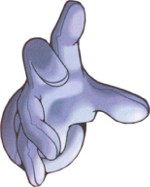 This is gonna be the ultimate battle between offense and defense.
Shotzo is practically invincible -- all that can kill it is sudden death!
Master Hand is not invincible, but has a larger variety of attacks.
Shotzo is incredibly accurate, but stationary.
Master Hand moves around with great speed, but not necessarily accurate.
Shotzo can call for around 200 of its friends, but they don't really improve his power.
All Master Hand can call is Crazy Hand, but their strength increases tenfold.
Will Shotzo blow Master Hand out of the sky, or will Master Hand blow up Shotzo?
POLL OVER
Final Score: Shotzo, 2. Master Hand, 4.
WINNER: MASTER HAND!
Battle 4 had the most voters so far! Shotzo and Master Hand kept battling it out in this game of war. Shotzo kept firing his blasts, but Master Hand kept dodging. Master Hand fired his stronger blasts, but Shotzo was invincible. At the very end, Master Hand used a super powerful fiery blast, and it destroyed Shotzo -- Not by blowing it up, but because Shotzo fell down a bottomless pit. Master Hand advances and the invincible turret is still falling as we speak.
Ad blocker interference detected!
Wikia is a free-to-use site that makes money from advertising. We have a modified experience for viewers using ad blockers

Wikia is not accessible if you've made further modifications. Remove the custom ad blocker rule(s) and the page will load as expected.