Guys, remember when I did Round 1-5, quit forever, then came back? Well, I'm back now!! Who'd like to get this show on the road? Recap, since NONE of you remember: Kracko shocking Angie, Capsule J2 blowing up Captain Vul, Galacta Knight making sushi out of Blipper, and Masher mashing Heavy Mole. So now, here goes:
Battle 1: Whispy Woods vs. Tokkori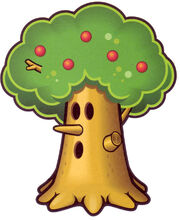 WHISPY WOODS
VS.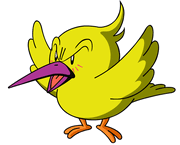 TOKKORI
So, our first return match consists of Kirby's weakest foe and Kirby's least reliable friend.
We have Whispy Woods, a stationary, cloud-blowing, apple-dropping, and 100% natural boss, who often serves as the first boss of Kirby's Games. Sure he's a boss, and he's stronger than most enemies, but can he take down...
Tokkori, a lazy, rude, and easily frightened bird. He doesn't really help Kirby very often, but he does tend to let him stay the night. Who will win in this epic battle? Will Whispy Woods get pecked to death, or with Tokkori get crushed by apples?
POLL OVER
Winner: WHISPY WOODS!
Whispy Woods: 4
Tokkori: 2
Tokkori decided to go through Kirby's Dream Land for the first time. Though the beginning was just as easy as he'd expected, it was different when he came face-to-face with Whispy Woods. He began by pecking at his bark, but it proved futile when a giant apple fell down on him and crushed him. Whispy Woods defeats Kirby's friend and moves on to Round 2.
Battle 2: Blade Knight vs. ChuChu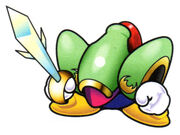 BLADE KNIGHT
VS.
CHUCHU
Our next battle involves Blade Knight, servant of Meta Knight's, enemy of Kirby's, and wandering swordsman of the games. He's been mainly a foe to Kirby, but on occasion, he's helped him out. Then there's Chuchu, an ally of Kirby's to the end. She is loyal, faithful, and ready kick butt any time! Will Blade Knight slice n' dice ChuChu, or will ChuChu gobble up Blade Knight?
POLL OVER
Winner: BLADE KNIGHT!
Blade Knight: 5
ChuChu: 0
ChuChu, in search of adventure, decided to go and infiltrate Meta Knight's base. Meta Knight was absent that day, and left Blade Knight in charge. ChuChu rushed into the room, only to be chopped up immediately, and got no votes. Blade Knight joins the ones who beat out their opponents without any opposition.
Battle 3: Drawcia vs. Rolling Turtle
DRAWCIA
VS.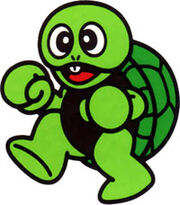 ROLLING TURTLE
An odd battle we see here. We have a more of a gimmick boss, Drawcia, competing with a mini-boss removed from the games, Rolling Turtle. Both of these are ready to win. Drawcia is more likely to go and watch Rolling Turtle and kinda play with it a while, but then Rolling Turtle is ready to all-out against Drawcia! Will Drawcia underestimate Rolling Turtle, or will Rolling Turtle see Drawcia's true potential?
POLL OVER
Winner: DRAWCIA!
Drawcia: 6
Rolling Turtle: 0
Rolling Turtle tried to roll around in Kirby: Canvas Curse to attempt to win as himself. Drawcia saw this as a bad attempt and blew up the Nintendo DS. Drawcia got absolutely all the votes, as no one voted for Rolling Turtle. Round 1-6 becomes the first round with more than one person getting all the votes.
Battle 4: Kit Cosmos vs. Miracle Matter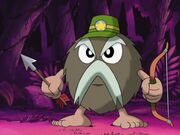 KIT COSMOS
VS.

MIRACLE MATTER
This battle could be a celestial battle for the ages.
Here we have it. Hero vs. Villain. Inspiration vs. Criminal. Fair Fighter vs. Dirty Fighter. Journeyman vs. Master. And ultimately, Space Warrior vs. Space Deity.
Kit Cosmos, one of the greatest warriors of the galaxy, whom has inspired many children of Cappy Town, comes face-to-face with Miracle Matter, who is thought to be the strongest form of energy and matter in the universe until 02 shows up.
Will Kit Cosmos defeat Miracle Matter the same way Kirby did...
Or will he fall at the, erm, invisible hands of Miracle Matter?
POLL OVER
Winner: KIT COSMOS!
Kit Cosmos: 4
Miracle Matter: 3
What a close match! The closest of Round 1-6 so far. Kit Cosmos and Miracle Matter decided to meet each other at the Fountain of Dreams. Kit Cosmos fought fair, while Miracle Matter decided to use his dirty tricks. Kit felt like he was done after Miracle Matter kept cheating, but he fired an arrow straight at him at the last second. This arrow took down Miracle Matter, and granted Kit Cosmos the victory.